Meeting location

The Meeting location
Before each CMA4CH Meeting we select the location for the next one; so at the Nemi Conference, 2006, we communicated that the 2008 Edition should be held in Ventotene Island. This is a very nice small island where under the bad war, in 1941, some prisoners of the jail wrote the "Manifesto di Ventotene" postulating the European Union. Thanks to Altiero Spinelli, Ernesto Rossi, Eugenio Colorni, Luigi Einaudi, Ursula Hirschmann, Ferruccio Parri, Sandro Pertini et al. .
In previous described 2008 edition we communicate the new one, 2010, in Sicily island, really in the centre of Mediterraneum, near the biggest active volcan of Europe. Surely from 26 to 29 September 2010, with an inexpensive course on Multivariate Analysis open to young (and not) researchers that will be held before the Meeting in Taormina city of course.
The Island
The meeting will take place in the biggest island of the Mediterraneum, it is easy to reach because of different airports and more and more harbours. In this sat photo you can see a part of Calabria, the Scilla and Cariddi sea passage (fortunately without the bridge!) and the East of Sicily.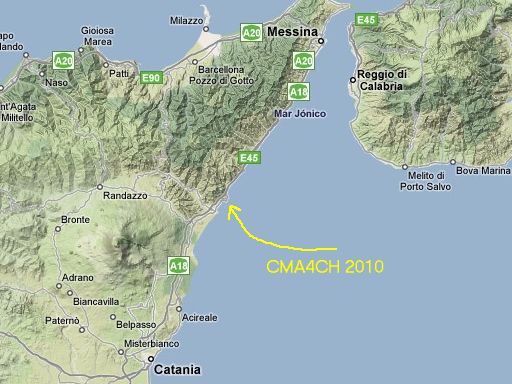 at Taormina
The Meeting location is in the historical centre of Taormina (not 20Km away or "near") and we suppose you will agree with our selection.
Tauromenium (the Roman, Latin name of Taormina) is a very popular touristy destination since the 1950. This small town is midway between Messina and Catania. On the East Coast of Sicily's island, today in the Province of Messina.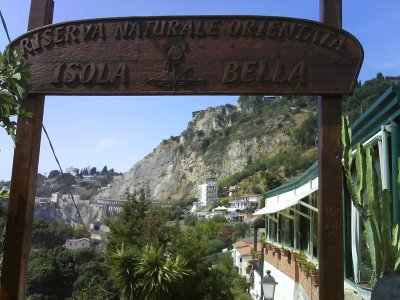 This beautiful island was inhabited by the Siculi in the Neolithic period, and even before, but Taormina's area was founded many years after the first Italian colony of Greeks, arrived on the Sicilian coast in 832 BC to found a town called Naxos. The photo above shows the entrance of a natural reserve of Isola Bella.
where is the Meeting? Hotels
The following photo shows the main hotels where we obtain a discount for the meeting participants. We are looking for a conference room where the meeting will take place. Following the custom method of previous CMA4CH edition, we select beautiful but not luxury Hotels and places already know for courtesy and service. If you like some other information about the hotels/hostels, please, ask our travel and service agency.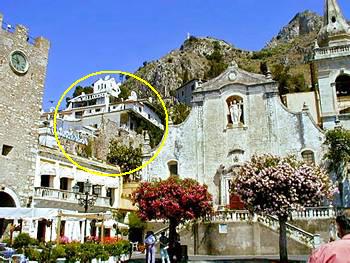 Other information about the Meeting hotel, name, address, prices are presented in the web site of the Hotel Vello d'Oro (Via Fazzello, yellow circle).
Rome University, La Sapienza
Mathematical, Physical, Natural Science Faculty
Rome, Italy, Europe
CMA4CH, Application of Multivariate Analysis and Chemometrics to Environment and Cultural Heritage
in the even years of III millennium, 2010
Laurea Degree Course of
Sciences Applied to Cultural Heritage for Diagnostic and for Conservation





Back Page
Home Page
© Copyright
We Did It
Liability