here a copy of WinIdams 1.3en free software
the .exe file, some documents, manuals, and links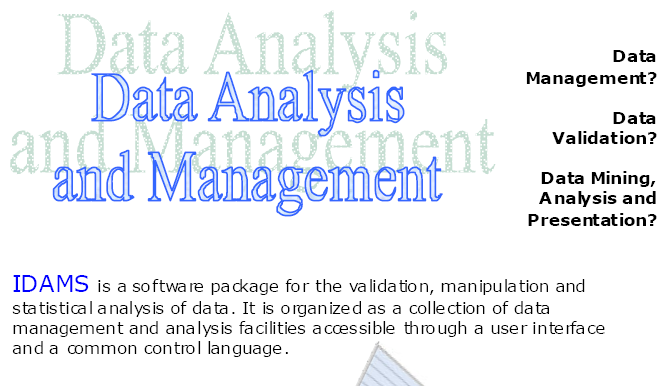 Following a citation of original Unesco web site.
IDAMS was originally derived from the software package OSIRIS III.2 developed in the early seventies at the Institute for Social Research of the University of Michigan, U.S.A. It has been and is continuously enriched, modified and updated by the UNESCO Secretariat with the co-operation of experts from different countries, namely American, Belgian, British, Colombian, French, Hungarian, Polish, Russian, Slovak and Ukrainian specialists, hence the name of the software: "Internationally Developed Data Analysis and Management Software Package".
In the beginning there was IDAMS for IBM mainframe computers.
The first release (1.2) was issued in 1988; it contained already almost all data management and most of the data analysis facilities. Although basic routines and a number of programs were taken from OSIRIS III.2, they were substantially modified and new programs were added providing tools for partial order scoring, factor analysis, rank-ordering of alternatives and typology with ascending classification. Features for handling code labels and for documenting program execution were incorporated. The software was accompanied by the User Manual, Sample Printouts and Quick Reference Card. In 2000 the first version of IDAMS for Windows and further development.
The release 1.0 of WIDAMS for 32-bit Windows graphical operating system was given for testing in the year 2000 and its distribution started in 2001. It offers a modern user interface with a host of new features to improve ease-of-use and on-line access to the Reference Manual using standard Windows Help. New interactive components for data analysis provide tools construction of multidimensional tables, graphical exploration of data and time series analysis..
More information on the history and versions are available in this web page: Objectives of IDAMS.

One other citation from original Unesco web site.
IDAMS is a software package for the validation, manipulation and statistical analysis of data. It is organized as a collection of data management and analysis facilities accessible through a user interface and a common control language. Examples of the types of data that can be processed with IDAMS are: the answers to questions by respondents in a survey, information about books in a library, the personal characteristics and performance of students at a college, measurements from a scientific experiment. The common features of such data are that they consist of values of variables for each of a collection of objects/cases (e.g. in a sample survey, the questions correspond to the variables and the respondents to the cases).
Many different packages and programs exist for aid in the statistical analysis of such data. One special feature of IDAMS is that it also provides facilities for extensive data validation (e.g. code checking and consistency checking) before embarking on analysis. As far as analysis is concerned, IDAMS performs classical techniques such as table building, regression analysis, one-way analysis of variance, discriminant and cluster analysis and also some more advanced techniques such as principal components factor analysis and analysis of correspondences, partial order scoring, rank ordering of alternatives, segmentation and iterative typology. In addition, WinIDAMS provides for interactive construction of multidimensional tables, interactive graphical exploration of data and interactive time series analysis.
First one; under this link there is the original web page of IDAMS, link broken at sept2017.
Alternatively; one other link from a search engine Unesco communication, the link work, but inside is broken at sept2017.
Finally; a working page IDAMS statistical, but all links inside are broken at sept2017.
Fortunately; all the user manuals are present, sept. 2017, on Unesco web site, use this link and select the language, after find Toc.html and click on it.
When a software disappears from the official site, strangely, false sites are starting to appear that promise to download. Of course there is a direction behind trying to "infect" the web-tawny-owls that click on the first available link exasperated do not find what they are looking for.
Be careful, more and more links in Search Engines go to --jaleco.com-- or similar one. Those are not a file repository (as the good FileHippo) but a sharing of virus, trojan, downloader and similar one, here the virus analysis on the fake downloaded file.
More and more fake repository exists, as example --softroptal.ru--, see this screenshot, and see this other.

Unfortunately the download from the Unesco official page not work and I suppose next week/year the other pages disappears. Therefore, we use for our publication and we suggest this software to our students.
Following some files with .exe for installation, some documents and help.
Dear students the life is short and bad, so DO NOT ASK ME on the method to install this software in your PC. If you discover something on windows, office, or better Linux, bad you can not do.
We install the following on Windows XP SP3, and on Windows 7 enterprise, english versions, probably WinIndams work on Vista, W8.1 or other. Those are the files:
Exists an alternative? One is OpenIdams, also from Unesco, but it is dead before start. One other is ADaMSoft, born to be an extension of IDAMS but up today WinIdams are more and more modules. The new version of ADaMSoft run on Java so it is OS independent, the last version is of some days ago, aug.2017.
Is it useful WinIdams? Yes, we use to evaluate our dataset, principally for Exploratory Data Analysis as in this 2 papers: a research on Microclimate Monitoring, or an heretic discussion on composition of bronzes from eneolithic, read if you like.

Donations if you have a Bitcoin wallet
If you have a nice fat wallet you can send a few cents to this code 1ETv1mJTZTB7EiXwZkucF2BTA512Rkaw6 maybe with a message (be careful to the transaction cost, send 0.1 and pay 0.01 is not a good idea).
1ETv1mJTZTB7EiXwZkucF2BTA512Rkaw6 <== my code , Thank you.
Donations if you have not a Bitcoin wallet
If you like this work and measures you can make a small donation of Bitcoin. You do not need a wallet to make a donation, indeed even those who have Bitcoin wallet is better to pass for a web site that "gift" currency since this does not have a transaction cost.
To make a donation you must use some of your web-time. Go to www.GreenBitCo.in, enter my code 1ETv1mJTZTB7EiXwZkucF2BTA512Rkaw6 enter the Captcha code that you see, press "Claim Now" button. Wait 15 minutes on the publicity page, when the 15 minutes pass fill the new Captcha and press "Claim Now" again. To get some value are necessary 10 pages or more. Be careful, do not use roulette, dices, casino and other stealing web site.
1ETv1mJTZTB7EiXwZkucF2BTA512Rkaw6 <== my code , Thank you.
Universita' Degli Studi di Roma
La Sapienza
Dr. G. Visco
appointed professor for chemometrics & ....
Corso di Laurea in: Scienze Applicate ai Beni Culturali ed alla Diagnostica per la loro Conservazione